Back to Media
Ascender Takes Gold for Second Consecutive Year at HRM Asia's Readers' Choice Awards
Ascender selected as Gold Winner for Best HR Tech – Outsourcing Solution
SINGAPORE – 1 October 2020 – Payroll and Human Capital Management (HCM) software provider in the Asia Pacific, Ascender, won their second Gold at the HRM Asia Readers' Choice Awards for Best HR Tech – Outsourcing Solution, during the virtual award ceremony held on 30th September 2020.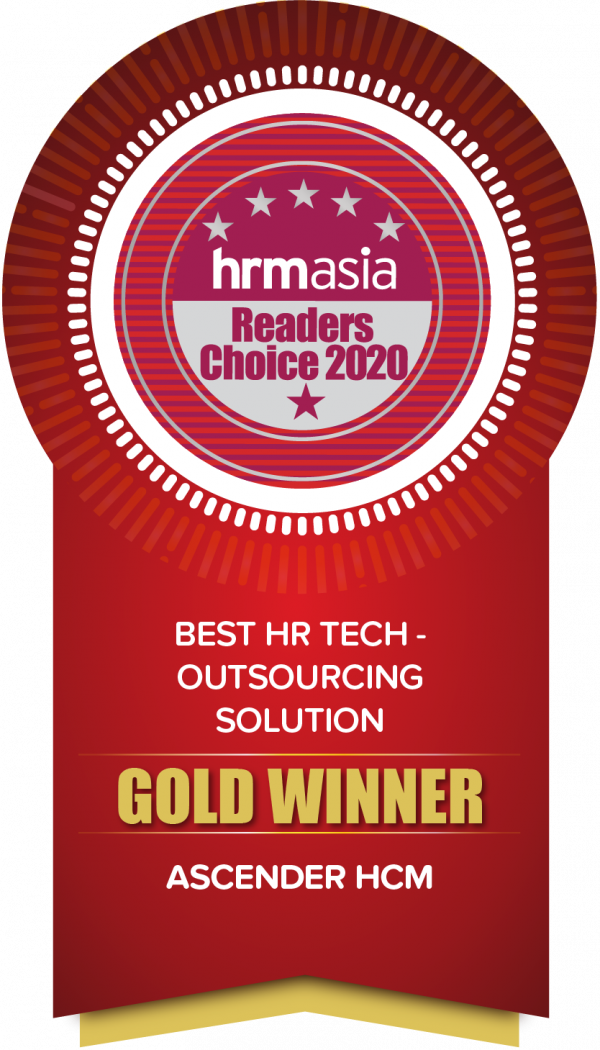 HRM Asia's Readers' Choice Awards celebrates the best and brightest HR service providers in Asia, recognising leading vendors to the HR profession. Nominees go through two stages of judging involving a pre-selection panel, online voting by HRM Asia readers, followed by a final assessment conducted by HRM Asia's distinguished panel of judges.
This year, Ascender received the Gold award for Best HR Tech – Outsourcing Solution, following from 2019 when they received the Gold award for the Best HR Tech – Payroll Solution for their payroll platform. Both awards give credit to the continuous investment Ascender puts into their solutions and services. Ascender is recognised as a bedrock of the APAC Payroll Services industry, with over 30 years of demonstrable market experience. These wins go a long way to demonstrating that clients continue to value the long-term commitment Ascender has to the APAC market.
"At Ascender, we believe that when Payroll solutions are done right, they can help employers provide richer, more meaningful interaction with their employees to drive up employee engagement. These awards are a testament to our ability to get it right, both as relates to technology, but crucially also when providing the right level of local expertise essential to client success. This award energises us to work even harder to continue to be the trusted partner of our Clients in the Asia Pacific." says Inna Wahlberg, General Manager, Asia Services.
Ascender provides Clients with end-to-end payroll management services, covering 32 countries in the region through their award-winning, cloud-based multi-country and multi-lingual payroll platforms. As experts in the Asia Pacific region, Ascender's payroll products and services reduce the complexity and time required to manage an organisation's payroll, ensuring their employees are paid on time, and their regulatory responsibilities are covered. We recognise that every business is different, so we have a clear product strategy based on geographies and industries, as well as a range of service delivery models enabling us to rationalise what fits organisations' needs best. Our Clients are supported by over 900 dedicated local staff, who have payroll and HR knowledge and expertise across the Asia Pacific.
About Ascender:
With more than 1.3 million employees of Ascender clients being paid using Ascender's Payroll and Human Capital Management platforms throughout the Asia Pacific, approximately 1,600 accounts across more than 1,100 global brands and listed companies trust us to meet their payroll and HR needs.
Their regional teams and operational centres service a diverse range of clients' payroll requirements through 900 dedicated professionals across 8 countries, who have local payroll knowledge and expertise in 7 languages across 31 country legislations. Ascender offers payroll outsourcing and cloud-based enterprise integration for businesses seeking to incorporate streamlined payrun capabilities across multi-countries through leading technology and innovative processes.
For more information regarding this media release, please contact:
E: hello@ascenderhcm.com
T: +65 6761 9450