Back to Media
Mantra Group and Ascender wins 2018 ISG Paragon Awards™ ANZ
22 March 2018: We are proud to announce that Ascender and Mantra Group have won the 2018 ISG Paragon AwardTM for ANZ under the Transformation Category, announced at the awards dinner on Thursday, 22nd March at the Westin Hotel Sydney.
The ISG Paragon AwardsTM celebrate ground-breaking and inspirational approaches to sourcing that have made significant impact on clients' businesses. The Transformation Category, highlights organisations or key business functions that were successfully transformed through relationships that demonstrated high performance leadership and best practices in the sourcing and service management fields.
The nomination shared insights from Mantra Group's need to streamline their HR and Payroll practices to accommodate its rapid, international growth without impacting employee engagement and experience. Ascender's integration of its Preceda Payroll platform with SAP Success Factors provided Mantra Group with exactly what it needed, meeting its objectives successfully and bringing in massive, positive results within a year of implementation.
"What an honour to share the stage with the Ascender team in accepting the winning trophy of our HR and Payroll transformation," Chris Purdy, Human Resources Manager of Mantra Group, shares. "Without our ongoing partnership and both our amazing teams, none of the great results would have been possible!"
Ascender with Mantra Group were listed as finalist together along with: Ramco Systems with The Glen Cameron Group; Tata Consultancy Services with Fairfax Media; and Wipro with AMP. The winners in each category were presented with Paragon trophy in recognition of the achievement. More information and the rest of the winners can be found at the ISG website.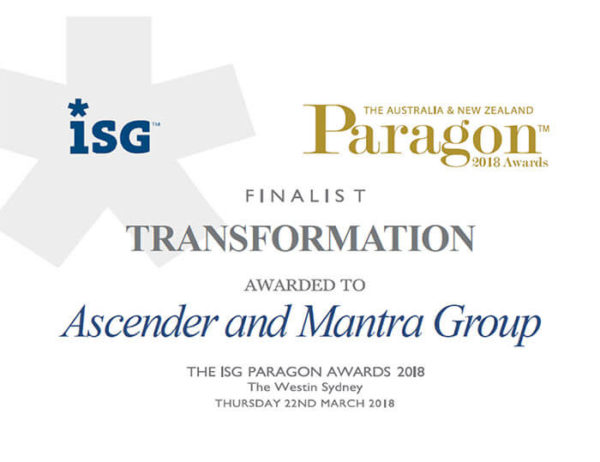 Introduction
Mantra Group is the largest Australian-based hotel and resort marketer and operator with over 120 properties and 5,600 team members globally. Following its rapid growth, Mantra Group sought to streamline its HR and Payroll processes, and centralise its communication strategy across its employee and candidate user experiences.
The two primary objectives were to free up time for Payroll teams through better task allocation to improve engagement and career development, and to enhance global recruitment efforts and enrich candidate experience.
"Knowing what matters" was placed highly in Mantra Group's vendor evaluation process. Ascender, a certified SAP SuccessFactors business partner, was chosen for its understanding of Mantra Group's unique requirements to deliver an efficient and seamlessly integrated technology ecosystem.
The results came quickly. Within a year of implementation. Mantra Group saw a reduced Payroll time from 20 minutes per team member to less than 5 minutes, which resulted in a total of 650 hours annually saved, a 37% increase in online employee training delivered, over 2,600 employees hired from external applications and more than 2,000 internal applications facilitated through the new system. Mantra Group also grew its prospective employees in its database to over 70,000 and saved up to $75,000 annually on recruitment costs.
By mid-2017, Mantra Group had centralised all its administration, curation and safekeeping of HR data on a system that was accessible via any location to continue providing timely communication and support. In meeting its objectives through Ascender's solutions, Mantra Group found new freedom in exploring new initiatives to continue growing its goals.
Overview of the award-winning project:
Following its rapid international growth, Mantra Group recognised the need to streamline its HR and Payroll practices to accommodate the needs of its team members, without sacrificing engagement and user experience. Mantra Group wanted to put communication in the heart of its Payroll and HR strategy, so input was gathered from Mantra Group team members through several activities: a group-wide team member survey to gain feedback on areas of improvement for HR; a HR workshop to brainstorm how technology could aid its operations; and consultations in the Learning & Development team to find an appropriate learning solution for Mantra Group. From these activities, Mantra Group found that:
team members wanted to change the way they engaged with HR, particularly through internal moves and training
it needed to standardise processes across the organisation to better match candidates with the right roles in the right locations, ensuring that there were clear communication lines; this was so the HR managers could easily track and monitor applicants
it needed to find a system that would be easy to use and flexible enough to cater to a diverse team member base, ranging from school-based trainees to more mature employees.
The feedback from these sessions and surveys were consolidated to build the business case, which had two primary objectives:
segregate Mantra Group's Payroll duties through the entire team member lifecycle from its local offices, to give local HR teams time to focus on improving engagement and career development; and
enhance its global recruitment strategy to enrich candidate experience and encourage applicants.
"Knowing what matters" to guests and team members led Mantra Group to choose a system with Ascender that met their expectations, after evaluating four vendors. Ascender is a certified SAP SuccessFactors business partner, and the intuitive design of this system integrates seamlessly with Preceda, Ascender's cloud-based payroll platform, which had been deployed prior to this project. Ascender's understanding of the unique requirements gave Mantra Group the confidence that Ascender's experience in both solutions would provide the most efficient outcome for its needs, and will allow it to manage its entire team member lifecycle from one unified technology ecosystem.
With the solution in place, Mantra Group's team members were given more time and control. The easy-to-use interface required little training and allowed them to facilitate transactions more efficiently with a centralised reporting system that had real-time connectivity and was transparent to all managers. The team member self-service software through their mobiles let team member's view, maintain, and perform transactions on the go. The positive user experience increased engagement with the tools. The system also gave Mantra Group a hands-on recruitment process. With the ability to accept video cover letters – something its millennial target market is keen to adopt – this significantly reduced the time spent reading letters and resumes. Instead, focusing on interacting with the applicant, improving their experience and giving them more insight into their suitability for customer-facing roles. Mantra Group was able to grow its direct applications through the system, kept in one single candidate database. Managers across locations can just login for any team member requirements or check the progress of a particular applicant in the pipeline.
Team members are also empowered to source for their own career growth, training and promotion. The solution makes it easier to apply for internal roles by making the process of application, acceptance, documentation, and transition seamless. The learning module was enhanced to make it user-friendly, encouraging team members to take more courses. This gives managers the ability to view their team member's training and record results for their people management.
Within a year of implementing the solution, Mantra Group saw the following results:
reduced payroll time from 20 minutes per team member to less than 5, a total of 650 hours a year
savings of up to $75,000 a year on costs associated with recruitment (i.e. online advertising, third-party recruitment)
2600+ employees hired from external applications, with 70,000+ prospective employees in their database
2000+ internal applications facilitated through the system
37% increase in online training delivered to employees.
After rolling out the solution in Australia and New Zealand in June 2016, the solution was implemented in Indonesia in November 2016 and Hawaii in March 2017. By July 2017, administration tasks, curation and the safekeeping of HR data became the responsibility of one dedicated team. The data is accessible via any location through the system, so individual site teams can focus on delivering support to their team members, feeding into overall retention and staff morale. In meeting its objectives through Ascender's solutions, Mantra Group has the freedom to explore initiatives that will contribute to its continued success in the market.
About Mantra: Mantra Group is the largest Australian-based hotel and resort marketer and operator, with a portfolio of 136+ properties and over 24,000 rooms in properties under management. Operating four well-known and trusted brands in Art Series, Peppers, Mantra and BreakFree,the company employs over 6,000 staff across Australia, New Zealand, Indonesia and Hawaii. www.mantragroup.com.au
About Ascender: With more than 1.3 million employees of our customers being paid using Ascender's HR/payroll platforms throughout the Asia Pacific region, approximately 1,400 global brands and listed companies across a range of different industries trust us to meet their payroll needs. We service these customers through 800 dedicated Ascender staff based in 10 countries, who have local payroll knowledge and expertise across 7 languages, providing payroll solutions to 31 country legislations.
More information?
Ascender Marketing
E: hello@ascenderhcm.com
T: 1300 766 400