Back to Media
Ascender takes home two medals at the HRD Service Provider Awards 2019
Ascender selected as top service provider for Payroll and Human Capital Management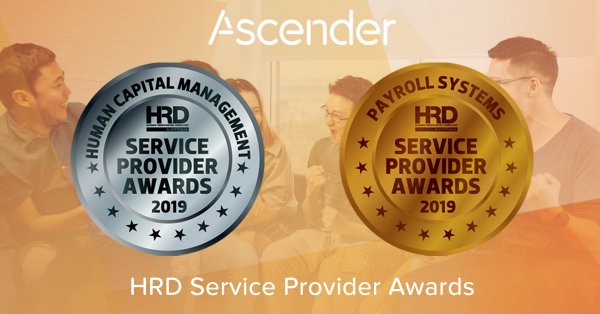 Sydney, 20 November 2019 –
Leading Payroll and Human Capital Management (HCM) software provider, Ascender, has been awarded two medals in the HCM and Payroll System categories at the HRD Service Provider Awards. 
The HRD Service Provider Awards recognise the best HR vendors in the industry across eight key specialist areas. Vendor submissions are judged on their overview of the business or product, insights on their point of difference along with data on market share and growth from the past twelve months. An independent panel of HR professionals from a range of industries then vote for the best submissions.  
"These awards recognise the impressive work produced by our teams across APAC," Andrew Wilson, Ascender, CEO, says. "At Ascender, we remain committed to implementing technology solutions that help support our customer's employees in the most effective way possible. I am extremely proud of my team's continued efforts to provide the best payroll and HCM solution to our customers; ultimately helping them put their people first."
Ascender's payroll system aims to reduce payroll time and complexity, ensuring employees are paid in a timely manner and responsibilities are carried out properly. It recognises the unique industry expertise of each business, and incorporates this thinking into building strategies and delivery modes that cater to different organisational needs. 
Ascender customers also have access to a proven partner ecosystem, with a growing number of applications and service providers, to address specific employee pain points and drive employee engagement. 
Ascender's HCM solution, Ascender PeopleStreme, equips organisations with easy solutions that target the day-to-day challenges of HR departments through 22 modules covering erecruitment, onboarding, performance management, learning and development, workforce planning and exit analytics. Organisations can also seek advice from Ascender's team of HR and change management experts when selecting fit-for-purpose HCM modules that guarantee more effective outcomes.
"We are honoured to have received these prestigious awards," Michael McNamara, Ascender Executive Director, says. "With Ascender, we see a significant opportunity to offer our customers a unique and powerful integrated all-in-one payroll and HCM solution. I would like to thank all our clients for their continued trust and positive feedback for Ascender that's reflected in these awards."
This follows Ascender being selected as the Gold winner for "Best HR Tech – Payroll Solution" at the HRM Asia's Readers' Choice Awards earlier this month, celebrating the best and brightest HR service providers throughout Asia. These awards continue to position Ascender as an innovative leader in the payroll and HR industry throughout the Asia Pacific region.
For more information on the HRD Service Provider Awards, click here.
About Ascender:
With more than 1.3 million employees of Ascender customers being paid using Ascender's Payroll and Human Capital Management platforms throughout the Asia Pacific, approximately 1,600 accounts across more than 1,100 global brands and listed companies trust us to meet their payroll and HR needs.
Their regional teams and operational centres service a diverse range of customers' payroll requirements through 900 dedicated professionals across 8 countries, who have local payroll knowledge and expertise in 7 languages across 31 country legislations. Ascender offers payroll outsourcing and cloud-based enterprise integration for businesses seeking to incorporate streamlined payrun capabilities across multi-countries through leading technology and innovative processes.
For more information, visit www.ascenderhcm.com.
For more information regarding this media release, please contact:
E: hello@ascenderhcm.com | Request a Demo
T: 1300 766 400