Back to Media
Ascender is named International Partner of the Year at the SD Worx Excellence Awards 2018
07 February 2018: Ascender is awarded the 2018 International Partner of the Year at the Excellence Awards held at the SD Worx European Conference in London on 7th February 2018. With over 800 registered delegates, 30 expert speakers across 10 sessions, the conference was titled "The Future of Collaboration," where discussions centred on how a multi-generational workforce and technology and shaping the world of work.
The SD Worx Excellence Award recognised customer partnerships that have delivered inspirational and successful projects in the past year. The company's customer-centric approach uses the awards to highlight the customers and employees who have gone the extra mile to deliver great results. Steven Van Hoorebeke, CEO of SD Worx Group, mentioned that the awards were "…a chance to thank our customers for their close collaboration over the past 12 months. We consider our customer relationships to be true partnerships, so it is a real joy to celebrate their successes with them through these awards."
There were six categories for the annual awards, namely:
International Customer of the Year
UK & Ireland Customer of the Year
International Innovative Project of the Year
UK & Ireland Innovative Project of the Year
International Partner of the Year
INSPIRE Award: Leading the Way
The International Partner of the Year Award acknowledged the positive impact an SD Worx partner has made to the business, employees, and customers. Ascender has been an established partner since mid-2016, serving clients in APAC countries, producing 200,000+ payslips annually. Since joining Payroll Services Alliance in December 2016, Ascender has been an invaluable partner to SD Worx, providing experience and expertise in multi-country outsourcing projects in the region.
Merry Djimin, Regional Director, Channel Sales for Asia and Middle East, said: "The award is a testament to the collaboration that we have between the two companies across our solutions and services to benefit our joint customer."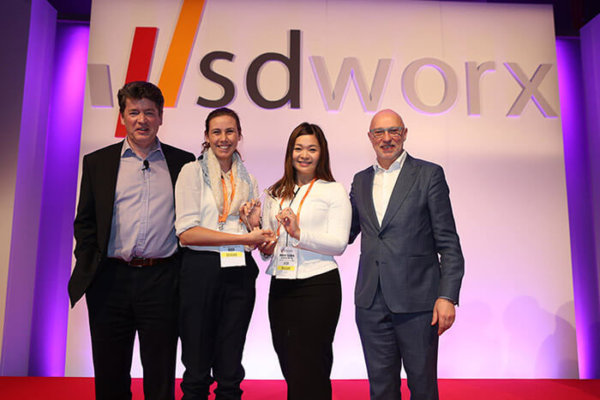 More information, and the rest of the winners can be found in the SD Worx website.
About SD Worx: SD Worx globally delivers a full range of quality services in the areas of Payroll, HR and Tax & Legal, with more than 3,600 staff serving more than 60,000 clients, offering salary calculations, training, HR research, social-legal, tax and HR-related consultancy services, specialist software for personnel departments and on-site support.
SD Worx calculates about 4.15 million salaries each month, whilst running its own offices in Belgium (HQ), Austria, France, Germany, Ireland, Luxembourg, the Netherlands, the United Kingdom and Switzerland and a service delivery centre on Mauritius. SD Worx is a co-founder of the Payroll Services Alliance whose members jointly handle 32 million salary calculations. www.sdworx.co.uk
About Ascender: With more than 1.3 million employees of our customers being paid using Ascender's HR/payroll platforms throughout the Asia Pacific region, approximately 1,400 global brands and listed companies across a range of different industries trust us to meet their payroll needs. We service these customers through 800 dedicated Ascender staff based in 10 countries, who have local payroll knowledge and expertise across 7 languages, providing payroll solutions to 31 country legislations.
For more information regarding this media release, please contact:
E: hello@ascenderhcm.com
T: 1300 766 400