Back to Resources
How to navigate payroll complexities to get pay right
Every month, we hear news of a business taking a hit for getting pay wrong, even if it is often an honest mistake. Why does this keep happening and are we heading towards a payroll compliance crisis?
Listen to Richard Breden, GM of Ascender ANZ Cloud Services and Jason Low, Head of The Association of Payroll Specialists, share their insights on this topic and discuss the state of payroll in Australia in this recording of the Getting Pay Right Still Going Wrong webinar held last 31 October. Topics discussed in the webinar include:
Key findings from our recent research into pay accuracy, underpayment, pay cycles and payslips
Why companies keep getting caught in inaccurate pay scandals
What can payroll professionals do to better navigate Australia's complex laws around industrial relations and simplify payroll compliance
The benefits of getting pay right and other tips on improving the employee experience
To learn more about our findings and how to overcome these risks, click here to download the full report.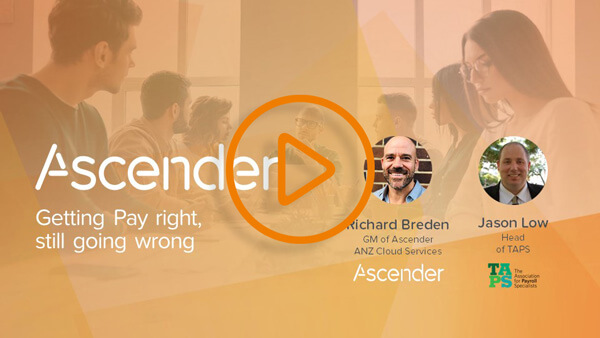 Fill out the form to access the recording: