Back to Resources
Empower your line managers with powerful people payroll analytics
"Today organisations often chase technology, and this becomes the basis of their strategy – but instead the real issue is the change technology brings to business about who has power, trust, and access."
– Rachel Botsman, AHRI HR Technology Conference 2014
Power. Trust. Access. This is the stuff dreams are made of in the world of technology. So HR and payroll technologies are critical to the issues of power and trust and access for your business leaders. Moreover, new technologies can bring lasting and meaningful change to your people practices – and indeed your business.
If you've been thinking about upgrading your HR technology platforms consider this: your choice can make a difference in your business' capability to analyse the goldmine of employee data – data that so often lays dormant within clunky and antiquated systems.
Transform people management with analytics

Analytics has the power to support the transformation of HR from a reactionary discipline to an indispensable business partner. Data can be used to predict turnover, improve new hire success rates, and keep an eye on poor performers for example. However, managers have to be able to get the data first and need the skill set to synthesise it next.
The Harvard Business Review outlines one such company who did just that. To prevent an impending turnover disaster, a large US-based energy conglomerate used analytics to assess how many employees would retire per year, what sort of workers were required to replace them, and where those individuals might come from. The analysis resulted in a workforce planning summit to categorise and prioritise 89 action plans to address the expected talent shortfall.
Hopefully, your business does not require 89 action plans to address your talent requirements. (And if it does stop reading this – there is no time to waste). However, it is highly likely that your managers require more information and access to that information, to understand their talent trends and requirements.
The role of "people" analytics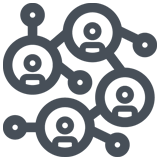 The most important goal of analytics is to tell a story. The story behind your data has the capacity to enlighten your leadership teams and fundamentally change a manager's behaviour. Information is powerful and can result in far better – and far quicker – decisions.
HR software is not just about managing non-compliance and getting payment details on time and on the money. It is a means to empower and inform business leaders. Moreover, when your payroll function is transferred to a SaaS-based platform, it creates the opportunity to mine and collect a vast amount of previously unrecorded data.
How to take advantage of the benefits of a SaaS-based platform:
Give access
Enabling your managers to be more self-sufficient and less reliant on payroll should be one of your key objectives. They need easy access to source data and simple end-user interfaces. In today's self-service environment, it is also an expectation. Reporting should be able to deliver this data in simple and easy to understand formats.
Support analysis
The HBR article goes on to note that in the 1970's, Murray Gell-Mann, a Nobel Physicist predicted the most valuable trait for 21st-century companies would be "the capability for synthesising information." Not only was Murray Gell-Mann right, but he has also lived to see this prediction come true.
The business decisions your managers make are complex ones and have far-reaching knock-on effects on the profitability and sustainability of your business.
Your managers can benefit tremendously from having access to critical in-house data. An online solution that can deliver managerial self-service to data and reporting to help them make critical business decisions is smart and timely.
The future is here, and it is all about obtaining and analysing information: just as a Nobel Physicist predicted it would be.

The post Empower your line managers with powerful people payroll analytics appeared first on Ascender HCM.