Back to Resources
How to digitally transform your business in the next normal
COVID-19 continues to change the working world as we know it. This next normal introduced—and for some, reinforced—the value of working from home, digital transformation and process automation. And even when the pandemic ends, we can expect that the world will not return to the normal that we used to know, and what used to work before will not necessarily work in the future.
While dealing with change is always a challenge, this also presents an excellent opportunity for organisations to transform their business, to create rich and meaningful experiences for their employees.
The Human Resource function is the first one expected to step up in this new era of work.  Companies have been making strides into this recently, starting with the use of online recruitment systems to keep their hiring going, as well as increasing the use of learning management systems in upskilling and reskilling their employees. However, some HR processes are still lagging—case in point, in a recent Ascender webinar, 55% answered that they do not have a structured online onboarding process. And that is just one part of the employee cycle! Furthermore, 37% of attendees confirmed that they have manual HCM processes, while 42% use different automated point solutions that do not talk to each other.
To support the new distributed workforce, companies need to step up to meet employees' expectations of a more streamlined and digital experience, with a user-friendly and accessible interface. Moving to digital also means that HR needs to be able to gather data in real-time with ease, optimise processes to increase efficiencies, and ensure data security so they can focus on helping their teams navigate change.
It is understandable that some organisations are still playing catch-up, and it's not too late! Here are some steps you can take to help to digitally transform your businesses in the next normal:
Rethink your current processes
Review your current workflow and reconsider if technology can improve your employee experience. Think about the pillars of HR and what initiatives fall under each. Where do you need to focus first? What are your priorities for the next few years? Where are the delays, and where are your people experiencing bottlenecks?
You do not need to do a complete overhaul all at once—the goal is to create meaningful touchpoints for your employees, even before their first day. Focus on one first, and build the HCM process from there, keeping in mind that there are new requirements of the new way of working.
Be willing to invest in your people
When planning to go digital, remember to design your new process with your people in mind. Employees keep your organisation running, yet many focus on the bottom line rather than the needs of their people.
How do you know what your people need, especially now that majority of the workforce is working from home? It helps to be aware of data and trends for your industry, to give you an idea of what to watch out for within your organisation. For example, onboarding may seem like a one-off process, but research connects this to other important metrics, such as employee productivity, referenceability and even overall company revenue.
Then, of course, you need to listen to your employees to know what they need. Using an engagement survey tool is the easiest way to get your employee's feedback, then once you have it, make sure to act on these insights. Companies who put their people first have higher levels of employee engagement, which in turn drives customer advocacy and builds better business performance.
Use technology to help
Once you have gathered your data and you know which process to start with first, it is time to think of what's the most appropriate tool. Automated systems and platforms have been around for a while, but it is only with the recent health crisis that companies have adapted to it with such swiftness—to achieve a contactless approach or to better manage a remote workforce, or both. And it made sense—not only does technology help make things more efficient, but it also helps organisations become more scalable, and reduces the risk of errors and non-compliance.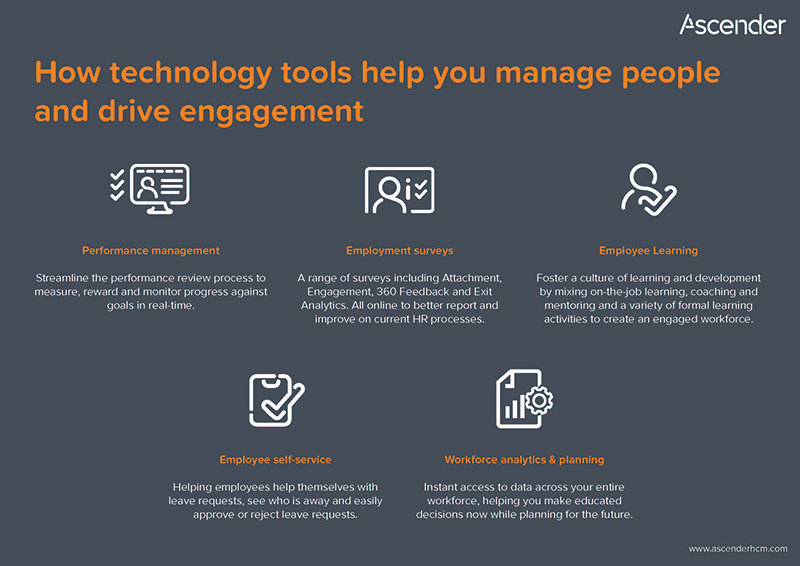 But remember that technology is there to assist and will not replace your underlying processes. It does not replace the human touch—in fact, with technology speeding up the administrative parts of your operation, this would give more time for your team to focus on meaningful interactions and the employee experience.
Transform your business
Understandably, the path to digital transformation is one with many roadblocks, from challenges in getting buy-in from your CEO, budget to tedious change management. There is no one-size-fits-all solution, but do not let these challenges stop you from pushing it forward! The right research and data and a clear vision of what you want to achieve can give you a seat at the table to build your new HR strategy and kickstart your way to transform your business.
###
Learn more about digital transformation with a free copy of the Ultimate HCM Buyer's Guide, your guide to choosing HR software. Click the image below to learn more: