Back to Resources
Getting pay right, getting harder in 2020
The Fair Work Commission (FWC) has handed down a decision that will affect the annualised salary clause of many modern awards. These clauses took effect from 1st of March 2020 and impacts over 22 modern awards, including one that will cover many employees – the Clerks Private Sector Award 2010.
Listen to Richard Breden, General Manager of Ascender ANZ Cloud Services and Chris Gianatti, Director from KHQ Lawyers, discuss their insights on:
How these legislative changes will affect employers
Steps an employer needs to consider and take in preparation for audits
Record keeping and reconciliations
Practical advice for implementing into your business
To Annualise or Not?
Joining them as well were with James Saxton, Head of Products – Ascender Pay and Mark Dean, Head of Products – Preceda, with some sneak peeks on how Ascender's payroll solutions are keeping up with this change.
To learn more about how you can be compliant with this legislative update and how our solutions can help you, download our info sheet here.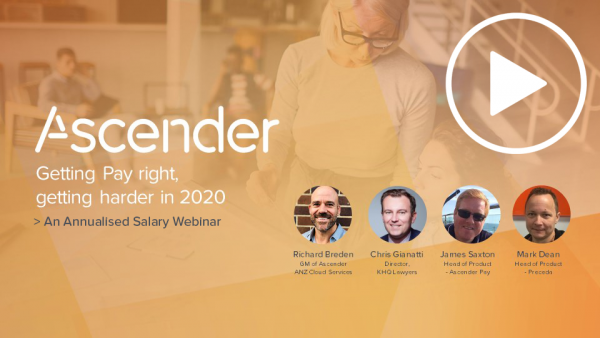 Fill out the form to access the recording: