Back to Resources
2021 Payroll and HR Trends Across APAC
Our 2020 Payroll and HR Trends report opened by stating that 'making predictions is hard'. That certainly turned out to be true when the COVID-19 pandemic literally swept across the world early in the year. Nobody saw it coming, but everybody was impacted by this personally and professionally.
For 2021, with continued high rates of infection and outbreaks of COVID-19 in countries around the region and the world, it will be a year of defining and adapting to the 'next normal'. For payroll and HR professionals this includes managing remote workforces, flexible working policies, cybersecurity managing Government subsidies, and accelerating the use of technology to increase efficiency and accountability in a very different work environment.
While our Asia Pacific region is very diverse, particularly in relation to legislation and regulations between countries, we view the trends of 2021 as being largely applicable across the region, whether your organisation operates in one or more countries. COVID-19 has brought us together in that regard, with a common purpose, while pushing us apart in so many other ways. In this ebook, we will be predicting some of the key trends in the Payroll and HR space in 2021.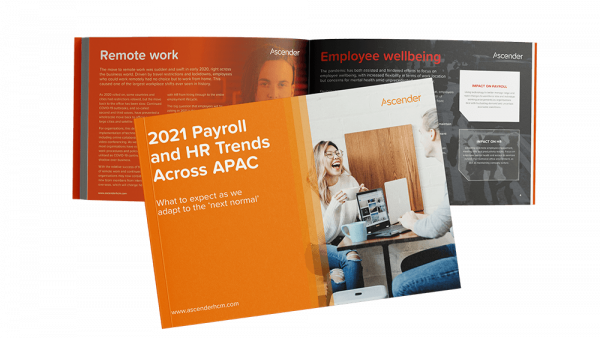 Fill out the form below to know what to look out for in Payroll and HR in 2021.